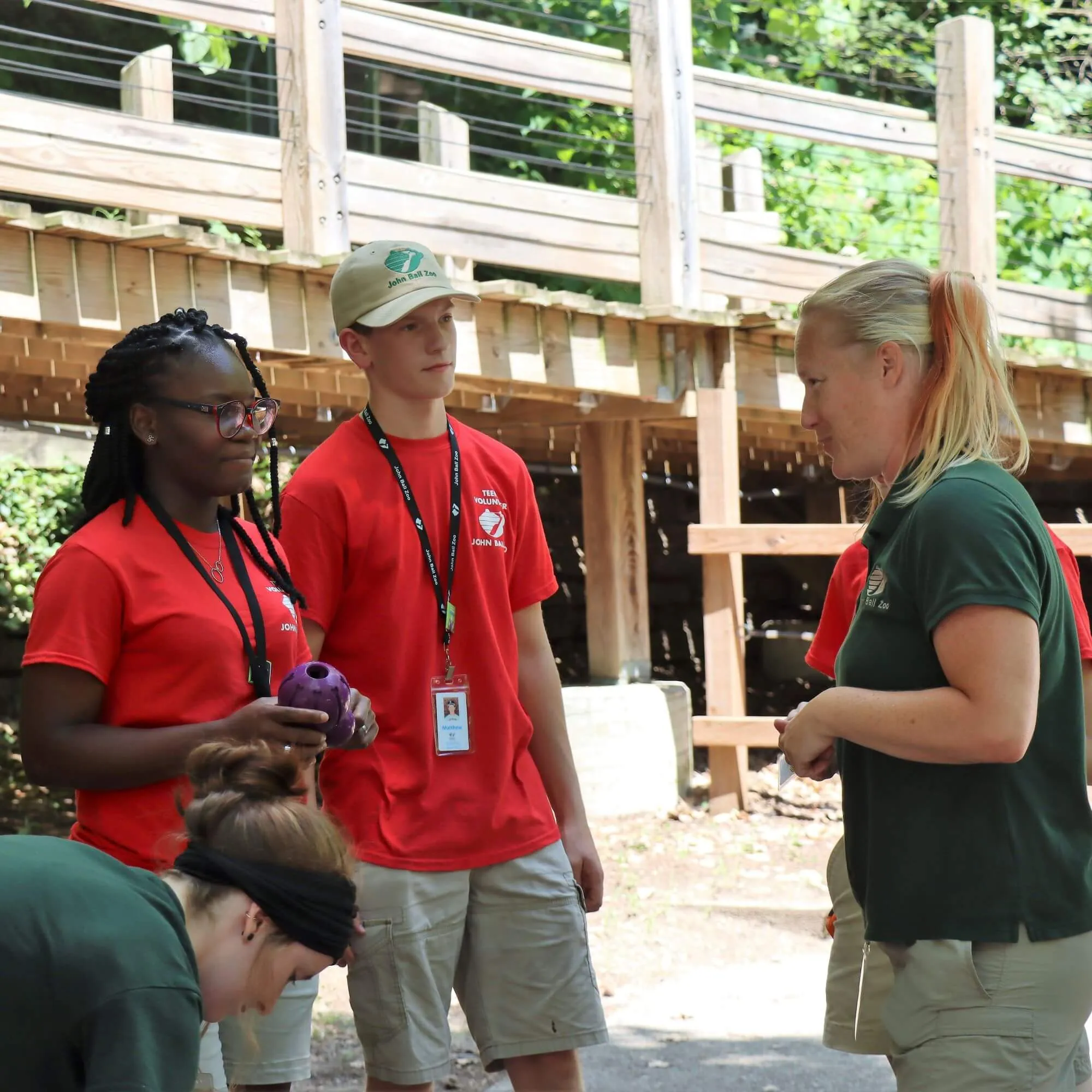 We are excited for you to get involved at John Ball Zoo! Explore the different ways to make an impact for wildlife and wild places with your time.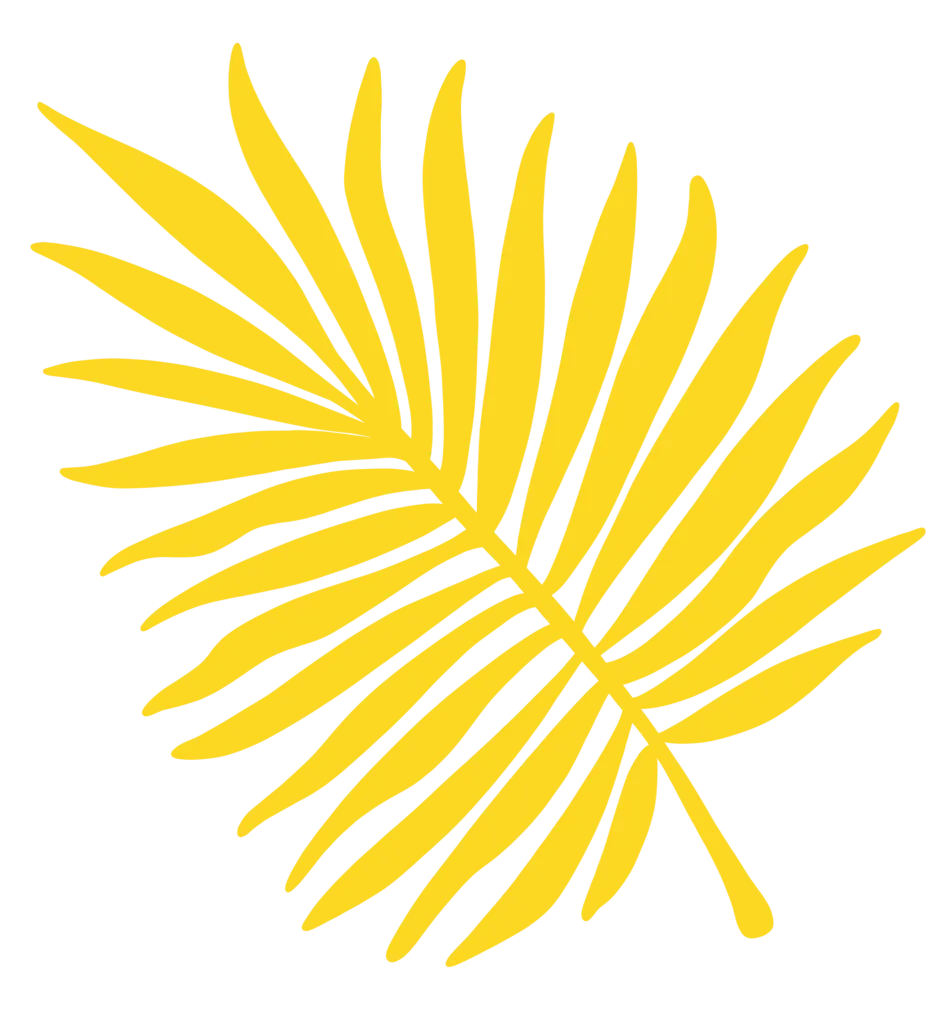 Thank you for considering donating your time to John Ball Zoo! We have a range of areas with volunteer team members and all go through the same process to join the team. After filling out an application, you will complete an online orientation, and attend an in person orientation before you get started.
Working behind the scenes to help support our animal care team volunteers work in a variety of assignments found in multiple departments. Please click on the assignment to see the detailed description for more information including age and commitment requirements.
Animal Nutrition*
Enrichment Building
Behavioral Observations
Keeper Help*
Under the direction of the zookeeper you will help get the zoo ready for guests in the morning. It is important to note that volunteers never have direct contact with animals.
*Indicates assignments that require yearly TB test.
Ability to commit to position attendance requirements

Most often 4 months with a weekly commitment for a total of 18 shifts. 
Multiple absences may result in removal from placement.  

Ability to follow area protocols
Understanding that there is no direct animal contact with exhibit animals.
COVID vaccination is highly recommended but not required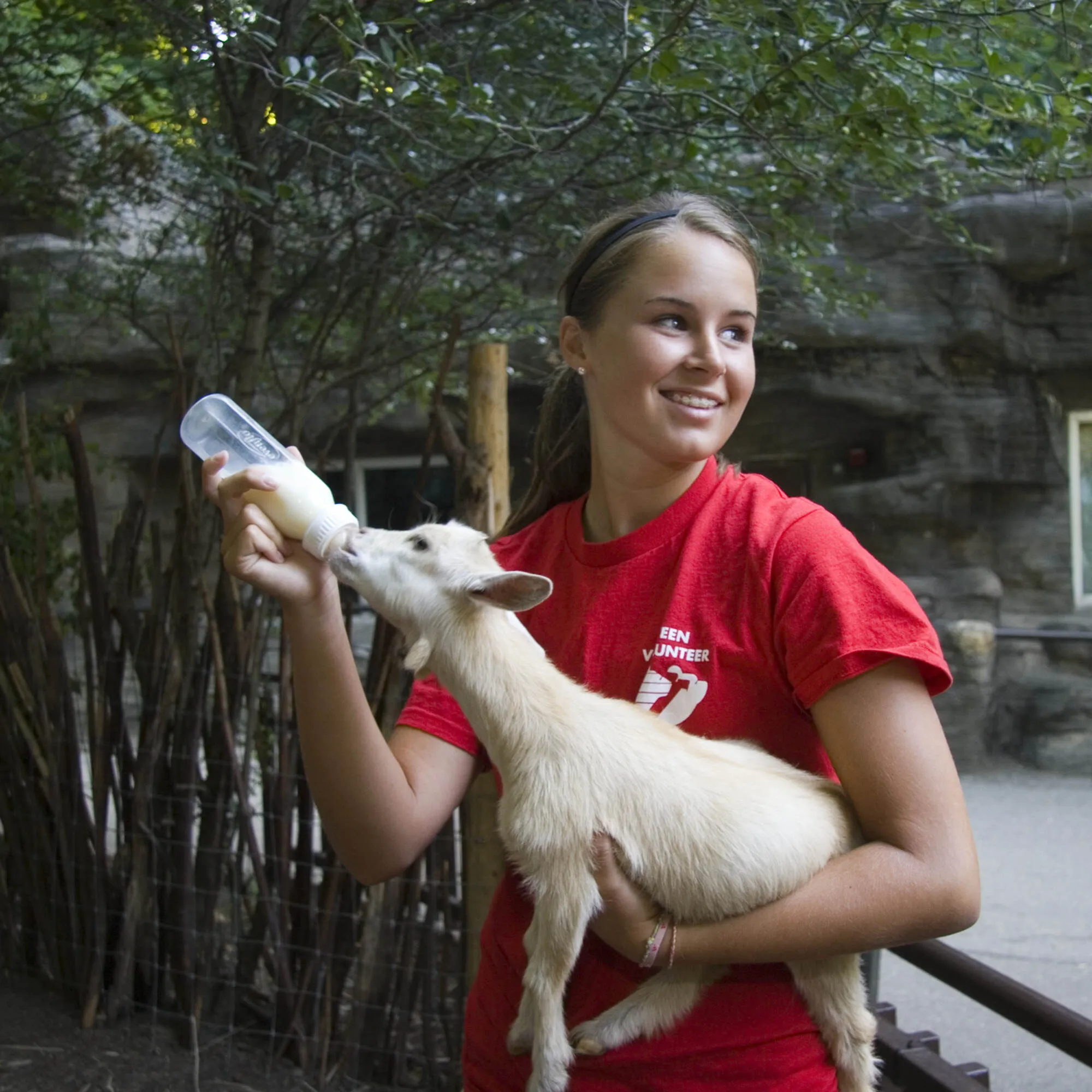 Are you ready to make an impact? Join our Youth Volunteers as they help support saving wildlife and wild places! Youth volunteer program runs during the summer but opportunities extend through spring and fall.
Qualities we look for when selecting volunteers:
Positive attitude
Enthusiasm for learning and sharing information with guests, kids and adults
Desire to meet new friends and be part of a team
Ready to make an impact on conservation of wildlife and wild places
Be 14 – 17 years of age
Completion of orientation
Ability to maneuver to assignment location in the zoo
Be able to attend in person assignment training sessions.
Be able to receive important information via email.
Our youth volunteers help in most of our Guest Engagement roles found in Guest Services and Education. We also have higher commitment opportunities in our Animal Team roles.
After receiving your application you will receive a welcome email with the next steps to take in becoming part of the John Ball Zoo Volunteer Team!
Thank you for thinking of John Ball Zoo for your volunteer time. If you are looking to make an impact without a big commitment being a JBZoo Helper is for you! Want to volunteer right away? Not sure if you want to make a commitment to come on a regular basis? Come help the zoo for an immediate opportunity. These are available to individuals and groups without an in depth orientation and training process, just sign up, show up and lend a hand. These opportunities will vary greatly, please see the individual opening for qualifications and description. All volunteers must be 14+ to volunteer independently, or 12+ to volunteer with an adult. On the application you will be able to see all available opportunities, select the day and time you will volunteer for and hit submit. If you do not see any available opportunities to sign up for there are none currently available.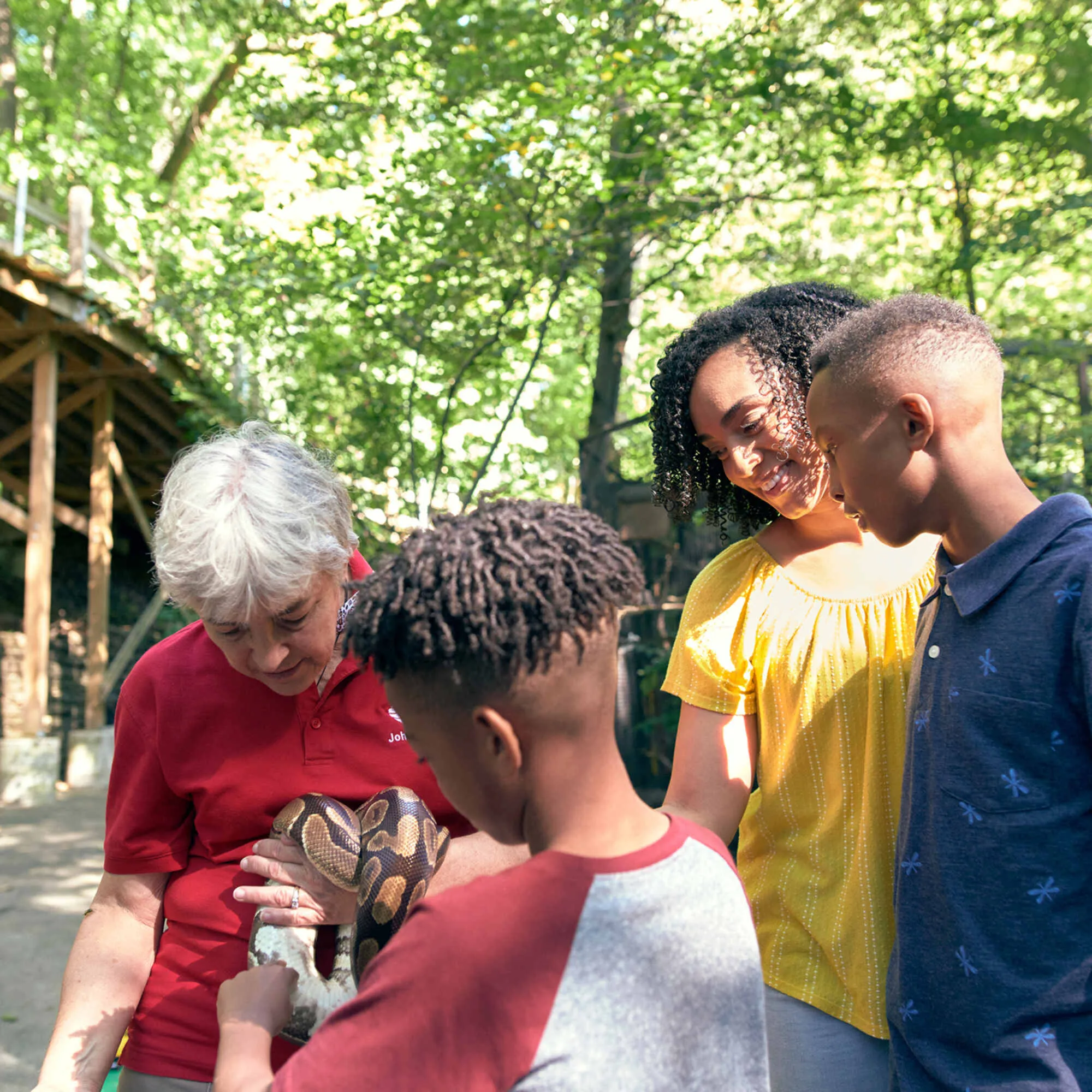 Zooster - Group Fundraising Opportunities
Are you part of a booster group or a small non-profit group? Are you looking for a fun and unique way to raise funds? Join the John Ball Zoo Food & Beverage team and earn money for your booster group! – Opportunities Closed for 2022
Groups MUST be a 501 non-profit, tax-exempt entity
Groups need at least 10 participants ages 15+ (at least 3 must be over the age of 21)
Shifts are 5 hours or less and support Food Service Operations
Donation to the group of $250 for Friday, Saturday, or Sunday opportunities, and $200 for Monday – Thursday opportunities.
Learn more about our college level internship opportunities at the Zoo in a variety of fields!
John Ball Zoo Internship Program offer college students a unique opportunity to become actively involved in our mission. In this exciting and challenging atmosphere, interns will supplement previous experiences and apply classroom knowledge in a variety of departments. The JBZoo Internship Program will post openings early in the new year for the Summer Semester. We currently are only running the program during the Summer Semester. Once posted all Internship Program opportunities, in addition to Seasonal, and Full Time opportunities can be found on our
CAREERS
page. If you are interested in volunteer opportunities at the zoo you can find those
HERE