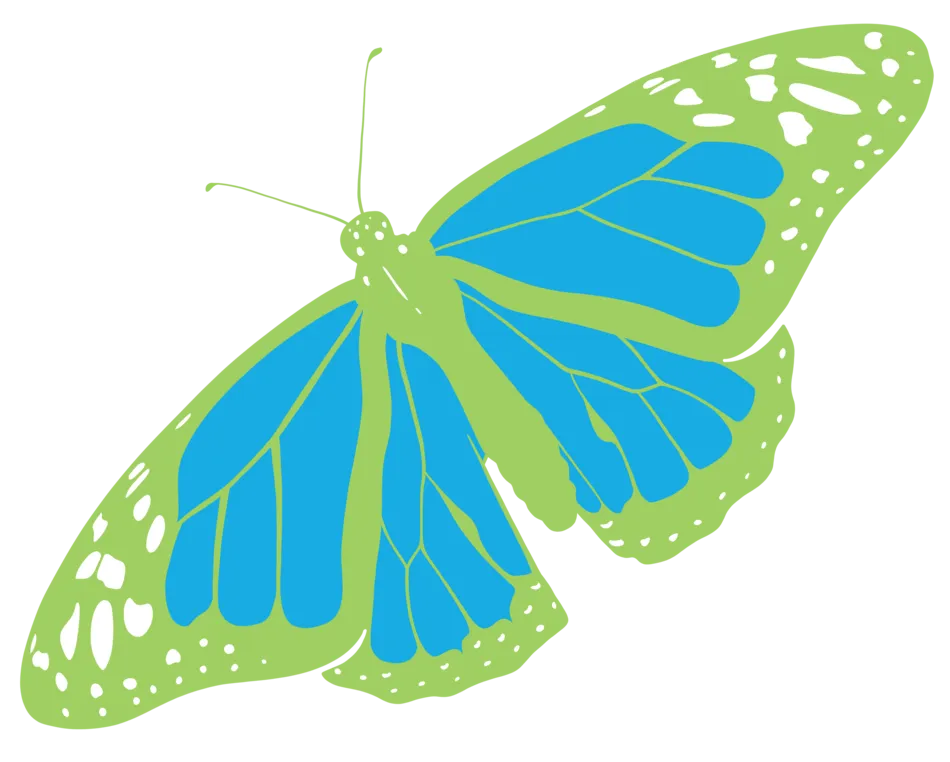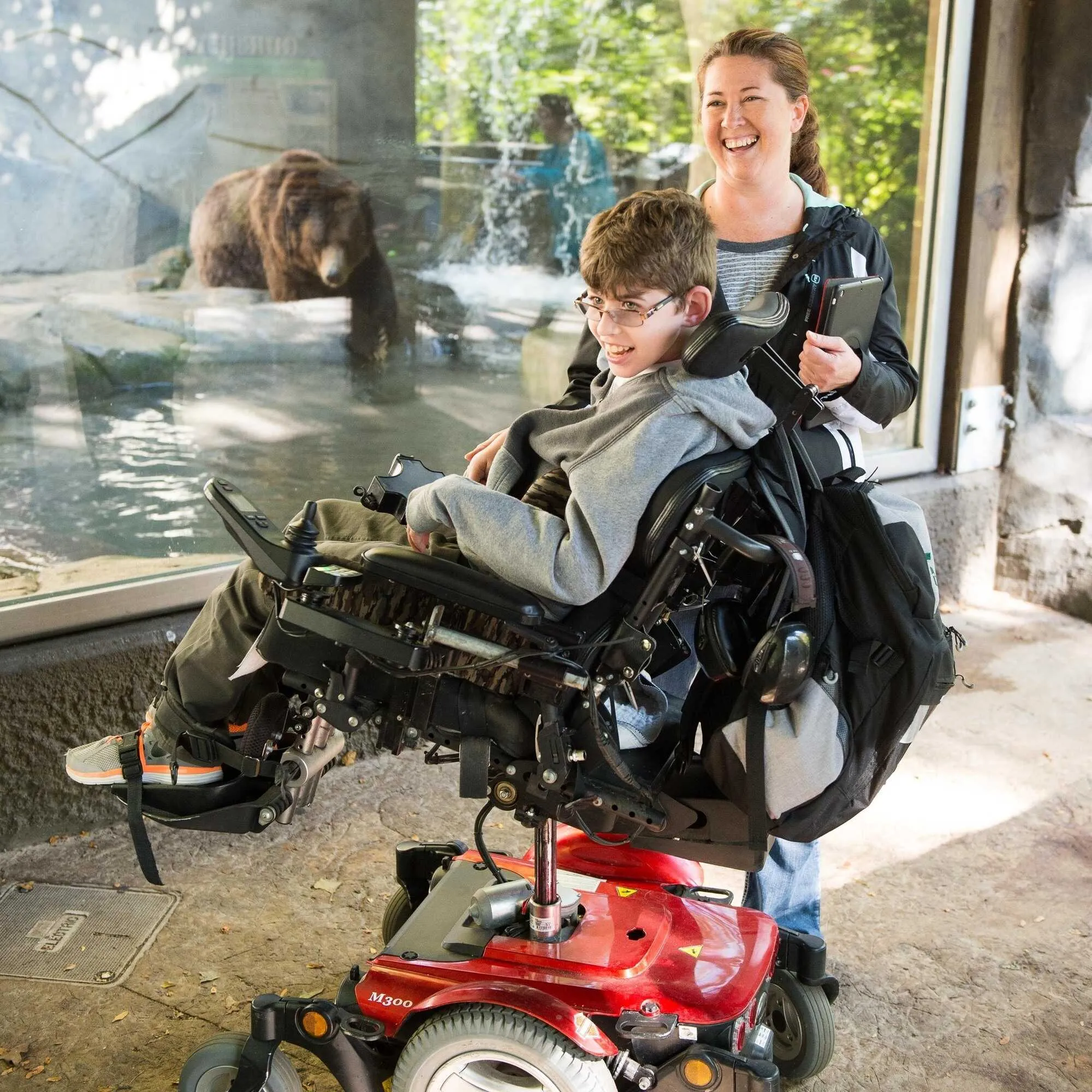 Accessibility at John Ball Zoo
John Ball Zoo is committed to ensuring that we are welcoming to all in our community. This is a pledge made by all of our employees. We strive to provide a safe, pedestrian-friendly environment where visitors of all ages and abilities can enjoy getting close to nature.
For more information on accessibility within the Zoo or specific disability accommodations, check out our accessibility guide.
Questions? Contact us at 616-336-4300 or [email protected]
Food & Beverage at John Ball Zoo
John Ball Zoo has various food & beverage opportunities located throughout the Zoo for your convenience. All venues accept cash, check, or credit cards. Remember all proceeds from your food purchases go to support your Zoo!
To assist our visitors with allergies, we do allow outside food to be brought into the zoo. We do ask that no glass containers are brought in for the safety of our animals and our guests.
You can reach the Food & Beverage Department at (616) 336-4326 or [email protected]
We appreciate your business!
Here's Where to Eat When You Visit
All souvenir cup refill programs are good for one season! Be sure to buy your 2023 cup early in the season and utilize the refill program throughout 2023.
The gift shop is open daily during normal Zoo hours. If you are a member, please have your membership card ready at all times. Show us your valid card to save 20% at any of our gift stands! Gift Cards are sold in the Gift Shop. Sold in any amount, they are good to use at any stand in the zoo. Call 616-336-4327 if you have any questions. 
*Curbside Pickup available – Call to pay by phone and have your item(s) brought out to your car. (Select times and days)
We can ship anything! Call 616-336-4327 to have any of our unique Zoo themed gifts shipped anywhere in the USA. Just pay shipping charges.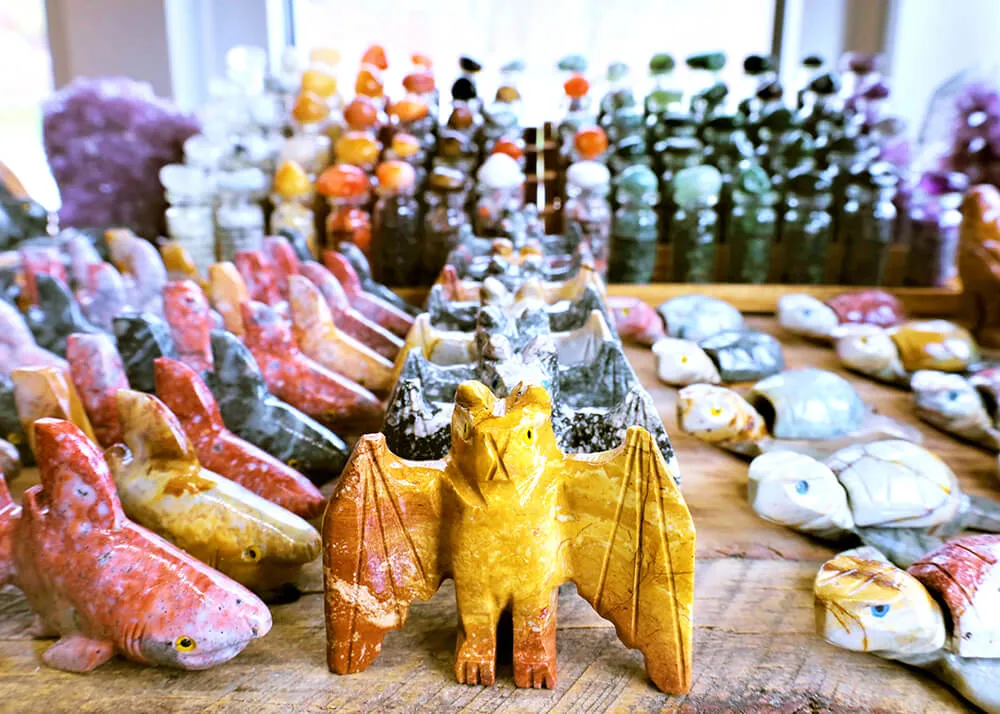 Eco-Friendly & Fair Trade
Help John Ball Zoo support the conservation efforts of our partners by purchasing from our wide selection of awesome Eco-Friendly items! We have marble sculptures hand carved by The Turtleman Foundation in Ecuador – whose proceeds go to help save the Sea Turtles – and a variety of Fair-Trade products handmade by the tribesmen of Kenya. Also returning this year are the ever-popular Fahlo bracelets, which each come with a tracking code so you can follow the animals you're helping with your purchase!
Some other examples of Eco-Friendly items for 2022 include T-Shirts and Sweatshirts made from recycled bottles, river-safe wood stickers, a wide variety of reusable bags, and wire figurines made from reclaimed poaching snares. Stop in to see how you can use products that preserve and protect wildlife and wild places.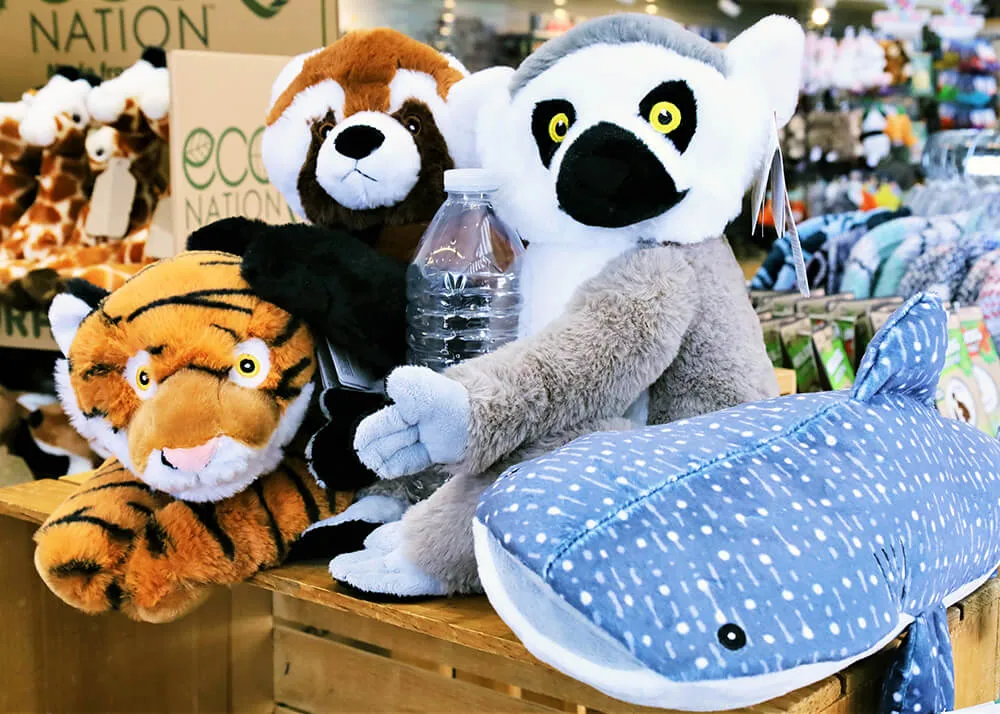 Our variety of plush is always growing and changing. Visit Gifts of the Wild to get a look at the new animals we've added this year: precious Pygmy Hippos, bright-crested Cockatoos, adorable Axolotls, wide-mouthed Whale Sharks, and so many more! Be sure to check out the classic mainstays as well: from our four-foot Snakes to the miniature pocketkins.
As always, conservation is important to us when selecting products to sell. We carry many different kinds of eco-friendly plush, such as our Ecokin and Econation plush, whose stuffing and fabrics are woven from recycled water bottles.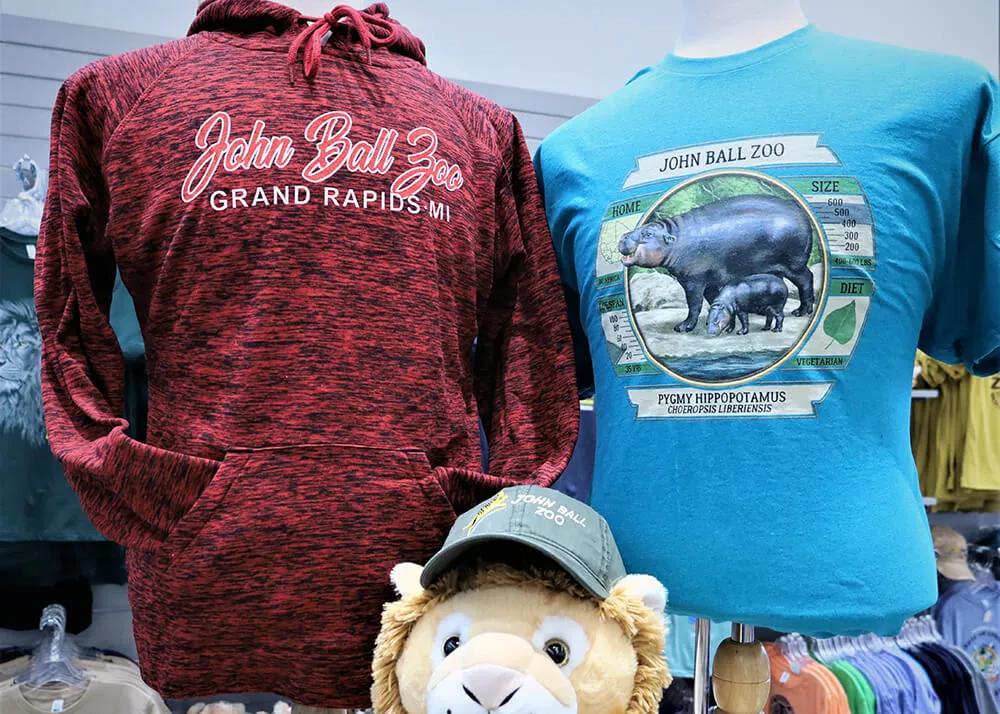 We have T-Shirts for everyone in the family, from adult all the way down to Infant. There are a huge variety of fashionable styles and colors to choose from, with graphics featuring Red Pandas, Tigers, Pygmy Hippos, and all your other favorite zoo residents! Don't forget to check out our sustainably made clothing options as well! Support the zoo and commemorate your visit by taking home one of these wearable memories.
Need something more suited to the outdoors? Prepare for your visit with a cozy hooded sweatshirt, a comfy pair of socks, gloves, knit hats, sunglasses and ballcaps, we've got your all safari needs covered!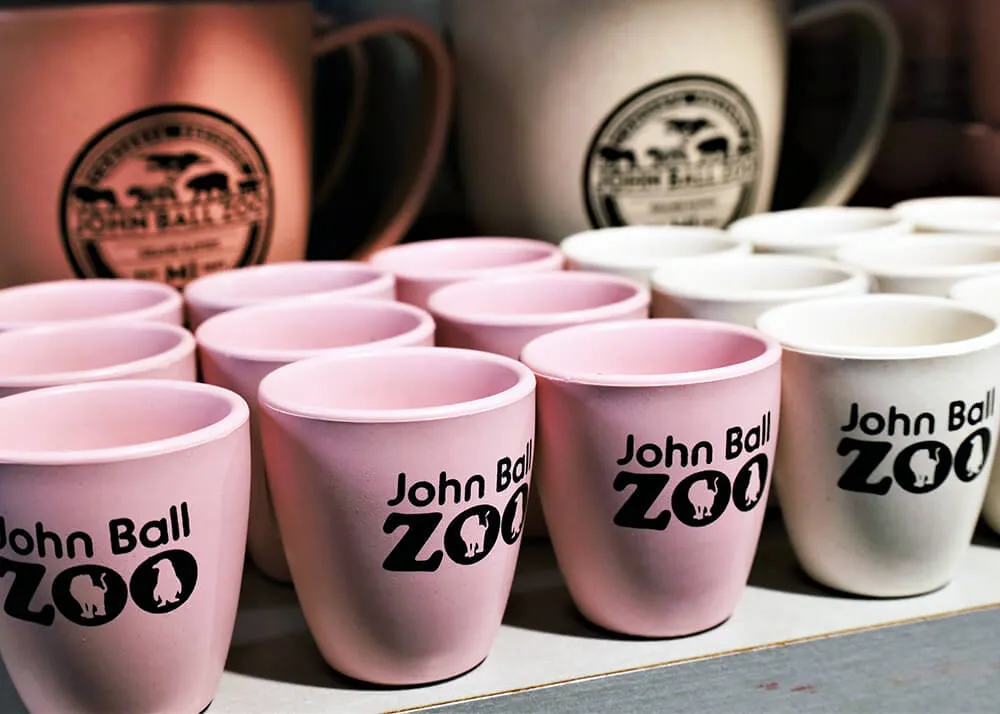 Lanyards, Tote bags and Backpacks, oh my! Keep an eye out for special commemorative souvenirs imprinted with our name and logo. If you're looking for a way to remember your trip, check out our selection of imprinted patches, pins, ornaments, shot glasses, mugs, key chains, and just about everything else you can think of.
Also coming this year: a brand-new set of postcards showcasing your favorite zoo animals! Make sure to also be on the lookout for other additions to our store featuring our NEW logo.
Outside Seasonal Gift Carts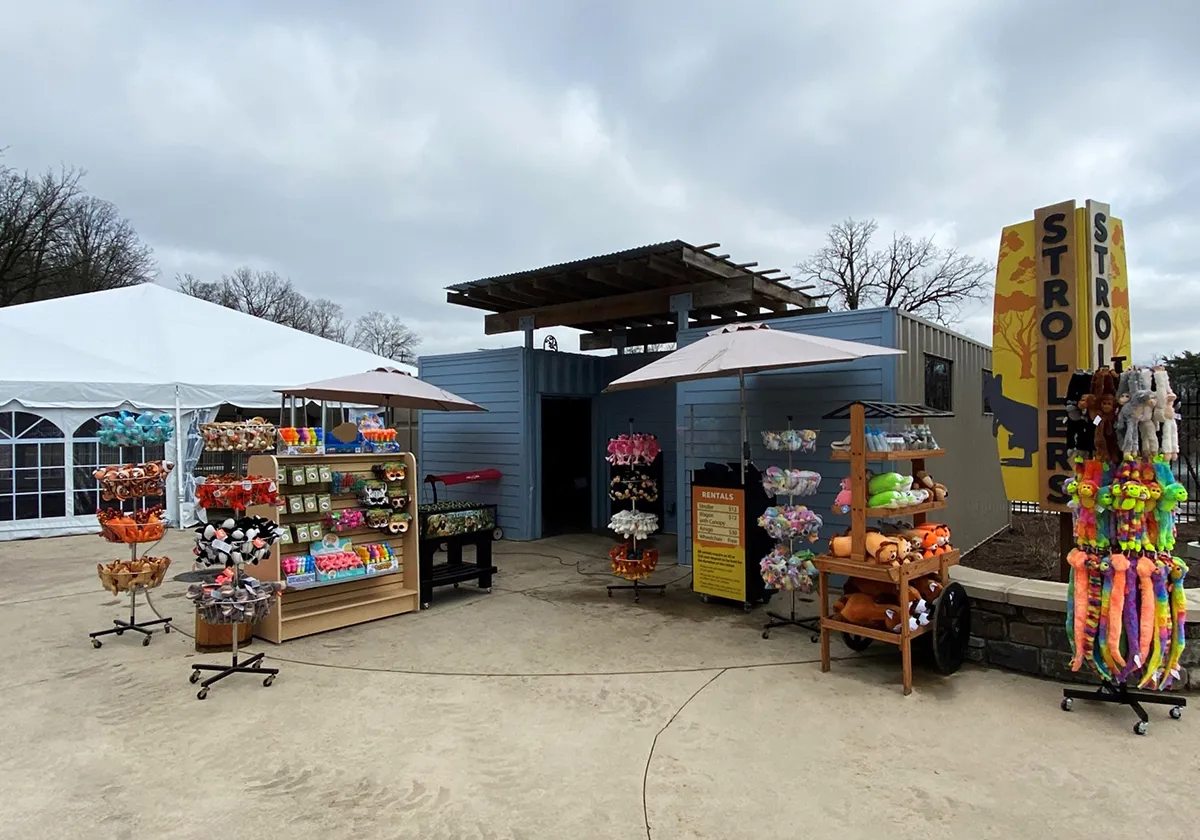 Located at the front of the Zoo next to the restrooms.
Stop by Safari Supplies to rent a Tiger Print Safari Stroller ($12), a Wagon with a Canopy ($12), a Wheelchair (free, while supplies last), or an Amigo Electric Cart ($30). These are rented out on a first-come, first-serve basis. All rentals require a $20 cash/card deposit to be held for the duration of the rental and given back upon return. Credit/debit card deposits may take 3-4 business days to return. Safari Supplies also sells select gift items as well. Stop by to take a look!
John Ball Zoo Gem Company
Located by the Petting Zoo.
Pan for your very own gems in our brand new Sluice! Choose from 3 different Gem Bags and then pour them into your screen to reveal your treasures. We have the Pay Dirt bag for $8.99 that comes with 6 ounces of Gemstone Mix, the Emerald Strike Bag for $14.99 that has 6 ounces of Gemstones and 3 ounces of emeralds, and the Motherlode Bag for $29.99! This bag comes with a little bit of everything including; Gemstone Mix, Fossil Mix, Shark Teeth, Arrowheads, and a large piece of Amethyst Druzy.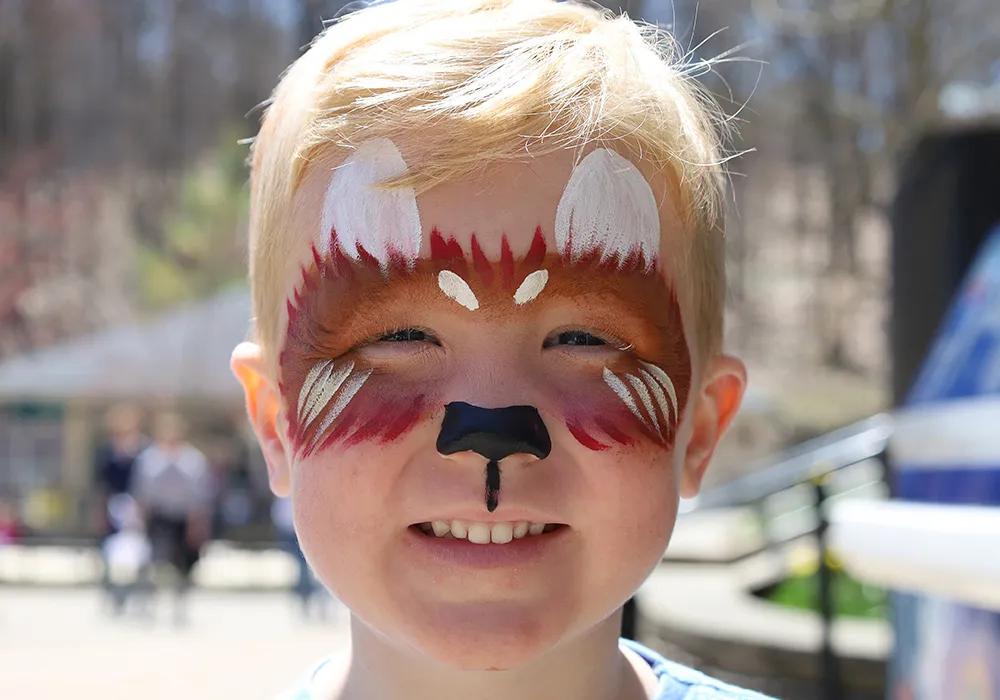 Located in the central part of the Zoo next to the Aquarium.
Become one of your favorite animals for your visit to the Zoo. Choose from either a cheek design or a full face design. All of the paintings are done freehand by our talented face painting employees. Choose between 9 different cheek designs and 9 different full face designs. Please remember, artists' styles may vary.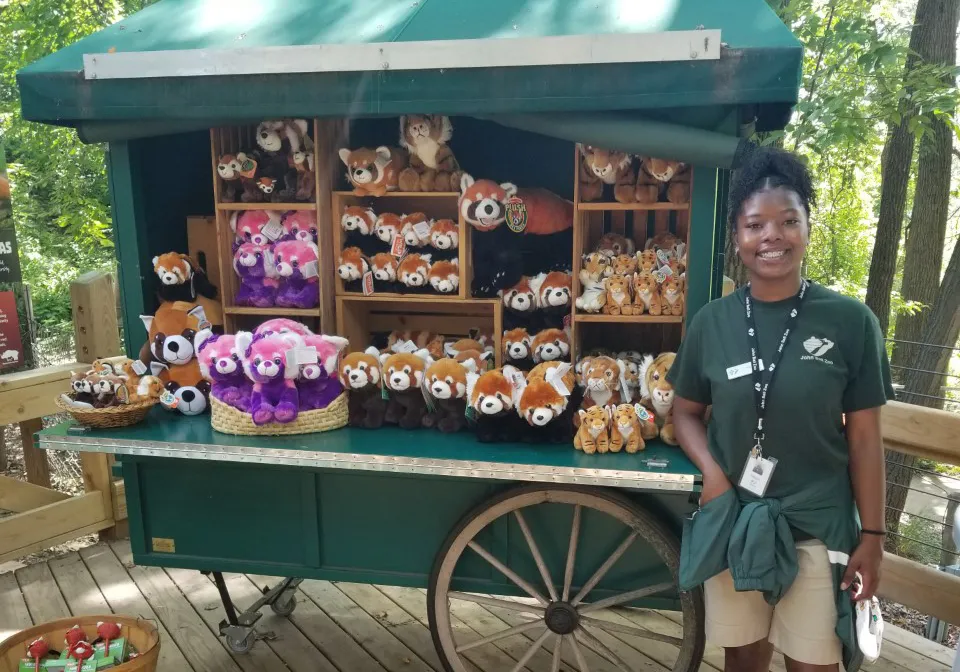 Located on the deck by the Red Panda Habitat.
After you stop to say hi to Wyatt and Wasabi, take home a souvenir of your favorite Red Pandas! We have a selection of plush, toys, souvenirs, and other fun items.
If you see something you like here, make sure to pick it up, we may not sell the same things in the Gift Shop.